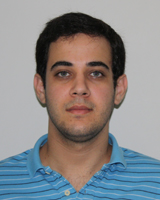 Research Interests:

Distributed Artificial Intelligence

Multiagent Systems (MAS)

Agent-Based Simulation

Air traffic flow management (ATFM)
Álvaro Câmara received in 2013 his M.Sc. in Informatics Engineering (MEI) from the Faculty of Science and Technology of university of Coimbra (FCTUC). Currently, he is a PhD student at the Doctoral Program in Informatics Engineering (ProDEI) from FEUP. He conducts his research at the Artificial Intelligence and Computer Science Research lab (LIACC) at the Department of Informatics Engineering (DEI) from FEUP working on the topic of air traffic flow management, multi agent system and aircraft landing scheduling, supervised by Prof. Daniel Silva.
Silva, E., Kokkinogenis, Z., Camara, A., Ulisses, J., Urbano, J., Silva, D. C., Oliveira, E. and Rossetti, R. J. F. (2016). An Exploratory Study of Taxi Sharing Schemas. 2016 IEEE 19TH INTERNATIONAL CONFERENCE ON INTELLIGENT TRANSPORTATION SYSTEMS (ITSC) (pp. 247-252)

Câmara, Á., Rúbio, T. R., Silva, D. C. and Oliveira, E. (2016). A Comparative Study of Meta-Heuristics for the Aircraft Landing Scheduling Problem. Proceedings of the 11th Iberian Conference on Information Systems and Technologies (CISTI 2016), Gran Canaria, Spain, June 15–18, 2016 (pp. 83–86)

Câmara, Á., Silva, D. C., Abreu, P. H. and Oliveira, E. (2014). Comparing a Centralized and Decentralized Multi-Agent Approaches to Air Traffic Control. Proceedings of the 28th European Simulation and Modelling Conference (ESM'2014), October 22-24, 2014, Porto, Portugal (pp. 189–193)
This member is not involved in projects
Ferreira, L. S. (2018). Construção e Integração de um Quadcopter numa Plataforma de Simulação de Missões Multi-Veículo. (Master's Thesis, Department of Informatics Engineering, Faculty of Engineering, University of Porto)

Neto, T. L. P. (2017). Flexible Air Traffic Control Management. (Master's Thesis, Department of Informatics Engineering, Faculty of Engineering, University of Porto)
Information not available