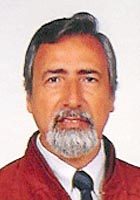 Eugénio da Costa Oliveira
Integrated member
eco@fe.up.pt
PhD w/ Aggregation
Research Interests:

Software Agents' Emotional-like architecture

Deep Learning for Text Mining

Computational Trust and Reputation Models

Adaptive Agents for E-Business

Intelligent Transportation Systems

Agent's Strategies for Co-operation and Negotiation

Multi-agent systems applications

AI and Ethics.
Full Professor (Artificial Intelligence) at the University of Porto. Co-founder and Director (2011-2016) of LIACC (Artificial Intelligence and Computer Science Laboratory) at the University of Porto. Founder and Director of the PhD Program on Informatics Engineering at the University of Porto (2005-2018). He got his PhD in Artificial Intelligence at New University of Lisbon in 1984. He was awarded with the Gulbenkian Prize for Science and Technology, 1984. "Guest Academic" at IBM/IEC in Belgium (84-85). Area chair for Agents in the European Conference on Artificial Intelligence – ECAI 2008. Vice-chair for the Area of Agents at IEEE WIC/IAT Conference, Lyon 2011. General Co-Chair of 18th EPIA Conference in Artificial Intelligence, 2017. He successfully supervised more than 20 PhD students and more than 50 Master students. He was partner, and also coordinator, in several research projects funded by either international or national funding agencies. He published more than 250 papers and has more than 5000 citations.
Abreu, C. and Oliveira, E. (2018). FEUP at SemEval-2018 Task 5: An Experimental Study of a Question Answering System. Proceedings of The 12th International Workshop on Semantic Evaluation (pp. 667–673)

Rodrigues, N., Oliveira, E. and Leitão, P. (2018). Decentralized and on-the-fly agent-based service reconfiguration in manufacturing systems. Computers in Industry, 101, pp. 81–90

Carneiro, J., Rossetti, R. J. F., Silva, D. C. and Oliveira, E. (2018). BIM, GIS, IoT and AR/VR Integration for Smart Maintenance and Management of Road Networks: State of the Art. Proceedings of the 4th IEEE International Smart Cities Conference (ISC2), September 16–19 2018, Kansas City, Missouri, USA

Oliveira, E. (2018). Beneficial AI: the next battlefield. Journal of Innovation Management, 5 (4), pp. 6–17

Costa, C. M., Veiga, G., Sousa, A., Rocha, L., Oliveira, E., Cardoso, H. L. and Thomas, U. (2018). Automatic generation of disassembly sequences and exploded views from solidworks symbolic geometric relationships. Autonomous Robot Systems and Competitions (ICARSC), 2018 IEEE International Conference on (pp. 211–218)

Cruz, J., Silva, E., Rossetti, R. J., Silva, D. C., Oliveira, E. C. and Neto, J. (2018). Application of multi-agent systems to shared transport services: A Review. 2018 13th Iberian Conference on Information Systems and Technologies (CISTI) (pp. 1–6)

Santos, D., Pinto, J., Rossetti, R. and Oliveira, E. (2018). Adding the third dimension to urban networks for electric mobility simulation: An example for the city of porto. Studies in Computational Intelligence, 718, pp. 199-214

Saleiro, P., Rodrigues, E. M., Soares, C. and Oliveira, E. (2017). TexRep: A Text Mining Framework for Online Reputation Monitoring. New Generation Computing, pp. 1–25

Rúbio, T. R. P. M., Kokkinogenis, Z., Cardoso, H. L., Oliveira, E. C. and Rossetti, R. J. F. (2017). ResMAS - A Conceptual MAS Model for Resource-Based Integrated Markets. Highlights of Practical Applications of Cyber-Physical Multi-Agent Systems - International Workshops of PAAMS 2017, Porto, Portugal, June 21-23, 2017, Proceedings (pp. 117-129)

Homay, A., de Sousa, M., Almeida, L., Martins, A. and Oliveira, E. (2017). Multi-agent Based Uncoordinated Channel Hopping in the IEEE 802.15. 4e. International Conference on Practical Applications of Agents and Multi-Agent Systems (pp. 287–296)

Saleiro, P., Sarmento, L., Rodrigues, E. M., Soares, C. and Oliveira, E. (2017). Learning Word Embeddings from the Portuguese Twitter Stream: A Study of some Practical Aspects. Portuguese Conference on Artificial Intelligence (pp. 880–891)

Queiroz, J., Leitão, P. and Oliveira, E. (2017). Industrial Cyber Physical Systems Supported by Distributed Advanced Data Analytics. Service Orientation in Holonic and Multi-Agent Manufacturing (pp. 47–59)

Saleiro, P., Rodrigues, E. M., Soares, C. and Oliveira, E. (2017). Feup at semeval-2017 task 5: Predicting sentiment polarity and intensity with financial word embeddings. arXiv preprint arXiv:1704.05091

Rodrigues, N., Leitão, P. and Oliveira, E. (2017). Dynamic service reconfiguration with multi-agent systems. Service Orientation in Holonic and Multi-Agent Manufacturing (pp. 307–318)

Silva, D., Abreu, P., Reis, L. and Oliveira, E. (2017). Development of flexible languages for scenario and team description in multirobot missions. AI EDAM-ARTIFICIAL INTELLIGENCE FOR ENGINEERING DESIGN ANALYSIS AND MANUFACTURING, 31 (1), pp. 69-86

Queiroz, J., Barbosa, J., Dias, J., Leitão, P. and Oliveira, E. (2017). Development of a smart electric motor testbed for Internet of Things and big data technologies. IECON 2017 - 43rd Annual Conference of the IEEE Industrial Electronics Society (pp. 3435-3440)

Gama, J., Oliveira, E. and Cardoso, H. L. (2017). Computational Models for Social and Technical Interactions. New Generation Computing, 35 (4), pp. 307–310

Rodrigues, N., Leitão, P. and Oliveira, E. (2017). An Agent-Based Approach for the Dynamic and Decentralized Service Reconfiguration in Collaborative Production Scenarios. International Conference on Industrial Applications of Holonic and Multi-Agent Systems (pp. 140–154)

Rúbio, T. R. P. M., Queiroz, J., Cardoso, H. L., Rocha, A. P. and Oliveira, E. (2016). TugaTAC Broker: A Fuzzy Logic Adaptive Reasoning Agent for Energy Trading. Multi-Agent Systems and Agreement Technologies (pp. 188–202)

Rodrigues, N., Leitão, P. and Oliveira, E. (2016). Triggering strategies for automatic and online service reconfiguration. Information Systems and Technologies (CISTI), 2016 11th Iberian Conference on (pp. 1–6)

Castro, A. J., Rocha, A. P. and Oliveira, E. (2016). Towards an Organization of Computers for Managing Airline Operations. CATA-31st International Conference on Computers and Their Applications, Las Vegas, USA, April (pp. 4–6)

Saleiro, P., Teixeira, J., Soares, C. and Oliveira, E. (2016). TimeMachine: Entity-Centric Search and Visualization of News Archives. Advances in Information Retrieval - 38th European Conference on IR Research, ECIR 2016, Padua, Italy, March 20-23, 2016. Proceedings (pp. 845-848)

Santos, D., Pinto, J., Rossetti, R. J. F. and Oliveira, E. (2016). Three Dimensional Modelling of Porto's Network for Electric Mobility Simulation. 2016 11TH IBERIAN CONFERENCE ON INFORMATION SYSTEMS AND TECHNOLOGIES (CISTI)

Rodrigues, N., Leitão, P. and Oliveira, E. (2016). Service reconfiguration in dynamic environments: a service-oriented multi-agent system approach. Ciencia 2016

Santos, D., Pinto, J., Rossetti, R. and Oliveira, E. (2016). Modelling altitude information in two-dimensional traffic networks for electric mobility simulation. Journal of Information Systems Engineering & Management, 1 (3), pp. 191–198

Rúbio, T. R., Cardoso, H. L. and da Costa Oliveira, E. (2016). MAESTROS: Multi-Agent Simulation of Rework in Open Source Software. Intelligent Distributed Computing IX (pp. 61–73)

Silva, D., Abreu, P., Reis, L. and Oliveira, E. (2016). Development of a flexible language for disturbance description for multi-robot missions. JOURNAL OF SIMULATION, 10 (3), pp. 166-181

Cardoso, H. L., Urbano, J., Rocha, A. P., Castro, A. J. and Oliveira, E. (2016). ANTE: A Framework Integrating Negotiation, Norms and Trust. Social coordination frameworks for social technical systems (pp. 27–45)

Silva, E., Kokkinogenis, Z., Camara, A., Ulisses, J., Urbano, J., Silva, D. C., Oliveira, E. and Rossetti, R. J. F. (2016). An Exploratory Study of Taxi Sharing Schemas. 2016 IEEE 19TH INTERNATIONAL CONFERENCE ON INTELLIGENT TRANSPORTATION SYSTEMS (ITSC) (pp. 247-252)

Oliveira, E. and Martins, P. (2016). Agent-Based Approach for Ship Damage Control. International Conference on Computational Collective Intelligence (pp. 3–13)

Rúbio, T. R., Cardoso, H. L. and Oliveira, E. (2016). Adaptive Multi-agent System for Smart Grid Regulation with Norms and Incentives. Doctoral Conference on Computing, Electrical and Industrial Systems (pp. 315–322)

Pinto, R., Gonçalves, J., Cardoso, H. L., Oliveira, E., Gonçalves, G. and Carvalho, B. (2016). A Facility Layout Planner Tool Based on Genetic Algorithms. Computational Intelligence (SSCI), 2016 IEEE Symposium Series on (pp. 1–8)

Câmara, Á., Rúbio, T. R., Silva, D. C. and Oliveira, E. (2016). A Comparative Study of Meta-Heuristics for the Aircraft Landing Scheduling Problem. Proceedings of the 11th Iberian Conference on Information Systems and Technologies (CISTI 2016), Gran Canaria, Spain, June 15–18, 2016 (pp. 83–86)

Nogueira, P., Torres, V., Rodrigues, R., Oliveira, E. and Nake, L. (2015). Vanishing scares: biofeedback modulation of affective player experiences in a procedural horror game. Journal on Multimodal User Interfaces, 10 (1), pp. 1–32

Rúbio, T. R., Queiroz, J., Cardoso, H. L., Rocha, A. P. and Oliveira, E. (2015). Tugatac broker: A fuzzy logic adaptive reasoning agent for energy trading. Multi-Agent Systems and Agreement Technologies (pp. 188–202)

Machado, N., Castro, A. J. and Oliveira, E. (2015). Studying the Impact of the Organizational Structure on Airline Operations Control. Advances in Artificial Transportation Systems and Simulation (pp. 103–124)

Rodrigues, N., Leitão, P. and Oliveira, E. (2015). Self-interested service-oriented agents based on trust and QoS for dynamic reconfiguration. Service Orientation in Holonic and Multi-agent Manufacturing (pp. 209–218)

Ulisses, J., Gonçalves, R., Coelho, A., Sousa, A. A. and Oliveira, E. (2015). Procedural Generation of Maps and Narrative Inclusion for Video Games. Oporto, January

Nogueira, P. A., Rodrigues, R., Oliveira, E. and Nacke, L. E. (2015). Modelling human emotion in interactive environments: Physiological ensemble and grounded approaches for synthetic agents. Web Intelligence (pp. 195–214)

Martins, P. T. and Oliveira, E. (2015). MAS for Ship Damage Control Decision Process. Proceedings of the 28th International Conference on Computer Applications in Industry and Engineering, San Diego, USA

Rúbio, T. R., Cardoso, H. L. and da Costa Oliveira, E. (2015). MAESTROS: Multi-Agent Simulation of Rework in Open Source Software. Intelligent Distributed Computing IX (pp. 61–73)

Abreu, C., Teixeira, J. and Oliveira, E. (2015). ENCADEAr: ENCADEAmento automático de notícias. Oslo Studies in Language, 7 (1)

Rodrigues, C., Silva, D., Rossetti, R. and Oliveira, E. (2015). Distributed flight simulation environment using flight simulator X. 2015 10th Iberian Conference on Information Systems and Technologies, CISTI 2015

Silva, A., Marinheiro, J., Cardoso, H. L. and Oliveira, E. (2015). Demand-Side Management in Power Grids: An Ant Colony Optimization Approach. Computational Science and Engineering (CSE), 2015 IEEE 18th International Conference on (pp. 300–306)

Almeida, J. E., Rossetti, R. J., Aguiar, F. and Oliveira, E. (2015). Crowd Simulation Applied to Emergency and Evacuation Scenarios. Advances in Artificial Transportation Systems and Simulation (pp. 149–161)

Nogueira, P. A., Torres, V., Rodrigues, R. and Oliveira, E. (2015). An annotation tool for automatically triangulating individuals' psychophysiological emotional reactions to digital media stimuli. Entertainment Computing, 9, pp. 19–27

Sousa, H., Teixeira, R., Cardoso, H. L. and Oliveira, E. (2015). Airline disruption management: dynamic aircraft scheduling with ant colony optimization. 7th International Conference on Agents and Artificial Intelligence (ICAART 2015)

Rodrigues, N., Leitão, P. and Oliveira, E. (2015). Adaptive services reconfiguration in manufacturing environments using a multi-agent system approach. German Conference on Multiagent System Technologies (pp. 280–284)

Santos, D., Fernandes, P., Cardoso, H. L. and Oliveira, E. (2015). A weighted constraint optimization approach to the nurse scheduling problem. Computational Science and Engineering (CSE), 2015 IEEE 18th International Conference on (pp. 233–239)

Tabassum, S. and Oliveira, E. (2015). A review of recent progress in multi document summarization. Doctoral Symposium in Informatics Engineering

Oliveira, M., Pereira, N., Oliveira, E., Almeida, J. E. and Rossetti, R. (2015). A multi-player approach in serious games: testing pedestrian fire evacuation scenarios. Oporto, DSIE15, January

Laboreiro, G. and Oliveira, E. (2014). What we can learn from looking at profanity. International Conference on Computational Processing of the Portuguese Language (pp. 108–113)

Oliveira, E., Cardoso, H., Urbano, J. and Rocha, A. P. (2014). Trustworthy agents for B2B operations under Normative environment. Systems and Informatics (ICSAI), 2014 2nd International Conference on (pp. 252–257)

Castro, A. J., Rocha, A. P. and Oliveira, E. (2014). The System Design. A New Approach for Disruption Management in Airline Operations Control (pp. 85–122)

Castro, A. J., Rocha, A. P. and Oliveira, E. (2014). The Airline Operations Control Problem. A New Approach for Disruption Management in Airline Operations Control (pp. 63–81)

Rodrigues, N., Oliveira, E. and Leitão, P. (2014). Self-organization combining incentives and risk management for a dynamic service-oriented multi-agent system. Doctoral Conference on Computing, Electrical and Industrial Systems (pp. 101–108)

Gonçalves, C. T., Camacho, R. and Oliveira, E. (2014). Ranking MEDLINE documents. Journal of the Brazilian Computer Society, 20 (1), pp. 13

Bonatti, P., Oliveira, E., Sabater-Mir, J., Sierra, C. and Toni, F. (2014). On the integration of trust with negotiation, argumentation and semantics. The Knowledge Engineering Review, 29 (1), pp. 31–50

Oliveira, E., Cardoso, H. L., Urbano, M. J. and Rocha, A. P. (2014). Normative monitoring of agents to build trust in an environment for b2b. IFIP International Conference on Artificial Intelligence Applications and Innovations (pp. 172–181)

Urbano, J., Cardoso, H. L., Oliveira, E. and Rocha, A. P. (2014). Normative and trust-based systems as enabler technologies for automated negotiation. Negotiation and argumentation in multi-agent systems, pp. 254–307

Fernandes, H., Nogueira, P. and Oliveira, E. (2014). Monte Carlo Tree Search in The Octagon Theory. Proceedings of the 6th International Conference on Agents and Artificial Intelligence-Volume 1 (pp. 328–335)

Castro, A. J., Rocha, A. P. and Oliveira, E. (2014). Learning in Heterogeneous Environments: a Case Study. Proceedings of the 2014 Workshop on Intelligent Agents and Technologies for Socially Interconnected Systems (pp. 1)

Nogueira, P. A., Aguiar, R., Rodrigues, R. A., Oliveira, E. C. and Nacke, L. (2014). Fuzzy Affective Player Models: A Physiology-Based Hierarchical Clustering Method.. AIIDE

Castro, A. J., Rocha, A. P. and Oliveira, E. (2014). Experiments. A New Approach for Disruption Management in Airline Operations Control (pp. 161–194)

Laboreiro, G. and Oliveira, E. (2014). Evaluation of profanity deobfuscation methods. Linguamática, 6 (2), pp. 25–43

Rodrigues, N., Leitão, P. and Oliveira, E. (2014). Dynamic composition of service oriented multi-agent system in self-organized environments. Proceedings of the 2014 Workshop on Intelligent Agents and Technologies for Socially Interconnected Systems (pp. 4)

Silva, D., Abreu, P., Reis, L. and Oliveira, E. (2014). Development of a flexible language for mission description for multi-robot missions. INFORMATION SCIENCES, 288 (1), pp. 27-44

Nogueira, P. A., Aguiar, R., Rodrigues, R. and Oliveira, E. (2014). Designing players' emotional reaction models: A generic method towards adaptive affective gaming. Information Systems and Technologies (CISTI), 2014 9th Iberian Conference on (pp. 1–6)

Almeida, J., Rossetti, R., Aguiar, F. and Oliveira, E. (2014). Crowd Simulation Applied to Emergency and Evacuation Scenarios. Advances in Artificial Transportation Systems and Simulation (pp. 149-161)

Nogueira, P. A., Aguiar, R., Rodrigues, R. and Oliveira, E. (2014). Computational Models of Players' Physiological-Based Emotional Reactions: A Digital Games Case Study. Proceedings of the 2014 IEEE/WIC/ACM International Joint Conferences on Web Intelligence (WI) and Intelligent Agent Technologies (IAT)-Volume 03 (pp. 278–285)

Câmara, Á., Silva, D. C., Abreu, P. H. and Oliveira, E. (2014). Comparing a Centralized and Decentralized Multi-Agent Approaches to Air Traffic Control. Proceedings of the 28th European Simulation and Modelling Conference (ESM'2014), October 22-24, 2014, Porto, Portugal (pp. 189–193)

Castro, A. J., Rocha, A. P. and Oliveira, E. (2014). Background. A New Approach for Disruption Management in Airline Operations Control (pp. 15–27)

Laboreiro, G. and Oliveira, E. (2014). Avaliaçao de métodos de desofuscaçao de palavroes. Linguamática, 6 (2), pp. 25–43

Urbano, J., Rocha, A. P. and Oliveira, E. (2014). An approach to computational social trust. Ai Communications, 27 (2), pp. 113–131

Urbano, J., Cardoso, H. L., Rocha, A. P. and Oliveira, E. (2013). Trust and Normative Control in Multi-Agent Systems. ADCAIJ: Advances in Distributed Computing and Artificial Intelligence Journal, 1 (1)

Urbano, J., Rocha, A. P. and Oliveira, E. (2013). The impact of benevolence in computational trust. Agreement Technologies (pp. 210–224)

Nogueira, P. A., Rodrigues, R. and Oliveira, E. (2013). Real-time psychophysiological emotional state estimation in digital gameplay scenarios. International Conference on Engineering Applications of Neural Networks (pp. 243–252)

Falcone, R., Castelfranchi, C., Lopes Cardoso, H., Jones, A. and Oliveira, E. (2013). Norms and Trust. Agreement Technologies (pp. 221–231)

Teixeira, F., Castro, A. J., Rocha, A. P. and Oliveira, E. (2013). Multi-agent learning in both cooperative and competitive environments. Proceedings of the XVI Portuguese Conference on AI-EPAI (pp. 370–381)

Fornara, N., Cardoso, H. L., Noriega, P., Oliveira, E., Tampitsikas, C. and Schumacher, M. I. (2013). Modelling agent institutions. Agreement technologies (pp. 277–307)

Nogueira, P. A., Rodrigues, R. A., Oliveira, E. C. and Nacke, L. E. (2013). Guided Emotional State Regulation: Understanding and Shaping Players' Affective Experiences in Digital Games.. AIIDE

Alves, P. R. J. A., Goncalves, J., Rossetti, R. J. F., Oliveira, E. C. and Monreal, C. O. (2013). Forward Collision Warning Systems Using Heads-Up Displays: Testing Usability of Two New Metaphors. 2013 IEEE INTELLIGENT VEHICLES SYMPOSIUM WORKSHOPS (IV WORKSHOPS) (pp. 1-6)

Carvalho, P., Rossetti, R., Rocha, A. and Oliveira, E. (2013). Exploring unkown networks using a cooperative mas-based approach. 25th European Modeling and Simulation Symposium, EMSS 2013 (pp. 333-338)

Laboreiro, G., Bošnjak, M., Sarmento, L., Rodrigues, E. M. and Oliveira, E. (2013). Determining language variant in microblog messages. Proceedings of the 28th Annual ACM Symposium on Applied Computing (pp. 902–907)

Gonçalves, C. T., Camacho, R. and Oliveira, E. (2013). Biotextretriever: yet another information retrieval system. In Proceedings of the Workshop Text Mining and Applications (TEMA) of the 16th Portuguese Conference on Artificial Intelligence (EPIA 2013) (pp. 522–533)

Lopes Cardoso, H., Urbano, J., Rocha, A. P., Castro, A. J. and Oliveira, E. (2013). ANTE: Agreement Negotiation in Normative and Trust-Enabled Environments. Agreement Technologies (pp. 549–564)

Urbano, J., Rocha, A. P. and Oliveira, E. (2013). A socio-cognitive perspective of trust. Agreement Technologies (pp. 419–429)

Nogueira, P. A., Rodrigues, R., Oliveira, E. and Nacke, L. E. (2013). A regression-based method for lightweight emotional state detection in interactive environments. XVI Portuguese conference on artificial intelligence (EPIA)

Nogueira, P. A., Rodrigues, R., Oliveira, E. and Nacke, L. E. (2013). A hybrid approach at emotional state detection: Merging theoretical models of emotion with data-driven statistical classifiers. Web Intelligence (WI) and Intelligent Agent Technologies (IAT), 2013 IEEE/WIC/ACM International Joint Conferences on (pp. 253–260)

Rocha, A. P. and Oliveira, E. (2013). 30 AN ELECTRONIC MARKET. Infrastructures for Virtual Enterprises: Networking Industrial Enterprises IFIP TC5 WG5. 3/PRODNET Working Conference on Infrastructures for Virtual Enterprises (PRO-VE'99) October 27–28, 1999, Porto, Portugal (pp. 421)

Timóteo, I. J. P. M., Araujo, M. R., Rossetti, R. J. F. and Oliveira, E. C. (2012). Using TraSMAPI for the assessment of multi-agent traffic management solutions. Progress in AI, 1 (2), pp. 157-164

Urbano, J., Rocha, A. P. and Oliveira, E. (2012). Trust evaluation for reliable electronic transactions between business partners. Agent-based technologies and applications for enterprise interoperability (pp. 219–237)

Urbano, J., Lopes Cardoso, H., Rocha, A. P. and Oliveira, E. (2012). Trust and Normative Control in Multi-agent Systems: An Empirical Study. Highlights on Practical Applications of Agents and Multi-Agent Systems (pp. 207–214)

Castro, A. J., Rocha, A. P. and Oliveira, E. (2012). Towards an autonomous and intelligent airline operations control. Intelligent Transportation Systems (ITSC), 2012 15th International IEEE Conference on (pp. 1429–1434)

Oliveira, E. (2012). Software agents: Can we trust them?. Intelligent Engineering Systems (INES), 2012 IEEE 16th International Conference on (pp. 15–20)

Alves, P., Campos, P. and Oliveira, E. (2012). Modeling the Trustworthiness of a Supplier Agent in a B2B Relationship. Working Conference on Virtual Enterprises (pp. 675–686)

Silva, D., Braga, R., Reis, L. and Oliveira, E. (2012). Designing a meta-model for a generic robotic agent system using Gaia methodology. INFORMATION SCIENCES, 195, pp. 190-210

Cardoso, H. L., Urbano, J., Brandao, P., Rocha, A. P. and Oliveira, E. (2012). ANTE: agreement negotiation in normative and trust-enabled environments. Advances on Practical Applications of Agents and Multi-Agent Systems (pp. 261–264)

Oliveira, E. C. (2012). A Structured Environment to Facilitate Agreements.. AT (pp. 351–352)

Ramos-Pollán, R., Guevara-López, M. Á. and Oliveira, E. (2012). A software framework for building biomedical machine learning classifiers through grid computing resources. Journal of medical systems, 36 (4), pp. 2245–2257

Morais, A. J., Oliveira, E. and Jorge, A. M. (2012). A multi-agent recommender system. Distributed Computing and Artificial Intelligence (pp. 281–288)

Timoteo, I. J. P. M., Araujo, M. R., Rossetti, R. J. F. and Oliveira, E. C. (2011). Using TraSMAPI for Developing Multi-Agent Intelligent Traffic Management Solutions. ADVANCES ON PRACTICAL APPLICATIONS OF AGENTS AND MULTI-AGENT SYSTEMS (pp. 119-128)

Silva, R. S., Laboreiro, G., Sarmento, L., Grant, T., Oliveira, E. and Maia, B. (2011). 'twazn me!!!;('automatic authorship analysis of micro-blogging messages. International Conference on Application of Natural Language to Information Systems (pp. 161–168)

Urbano, J., Rocha, A. P. and Oliveira, E. (2011). Trust-based selection of partners. International Conference on Electronic Commerce and Web Technologies (pp. 221–232)

Lopes Cardoso, H. and Oliveira, E. (2011). Social control in a normative framework: An adaptive deterrence approach. Web Intelligence and Agent Systems: An International Journal, 9 (4), pp. 363–375

Teixeira, J., Sarmento, L. and Oliveira, E. (2011). Semi-automatic creation of a reference news corpus for fine-grained multi-label scenarios. Information Systems and Technologies (CISTI), 2011 6th Iberian Conference on (pp. 1–7)

Laboreiro, G., Sarmento, L. and Oliveira, E. (2011). Identifying automatic posting systems in microblogs. Portuguese Conference on Artificial Intelligence (pp. 634–648)

Gonçalves, C. T., Camacho, R. and Oliveira, E. (2011). From sequences to papers: An information retrieval exercise. Data Mining Workshops (ICDMW), 2011 IEEE 11th International Conference on (pp. 1010–1017)

Urbano, J., Rocha, A. and Oliveira, E. (2011). Extracting Trustworthiness Tendencies Using the Frequency Increase Metric. ENTERPRISE INFORMATION SYSTEMS (pp. 208-221)

Gonçalves, C. T., Camacho, R. and Oliveira, E. (2011). BioTextRetriever: a tool to retrieve relevant papers. International Journal of Knowledge Discovery in Bioinformatics (IJKDB), 2 (3), pp. 21–36

Vinhas, V., Oliveira, E. and Reis, L. (2011). BioStories: Dynamic Multimedia Environments Based on Real-Time Audience Emotion Assessment. ENTERPRISE INFORMATION SYSTEMS (pp. 512-525)

Castro, A. J. and Oliveira, E. (2011). Airline operations control: A new concept for operations recovery. Airline industry: Strategies, operations and safety

Urbano, J., Rocha, A. P. and Oliveira, E. (2011). A situation-aware computational trust model for selecting partners. Transactions on computational collective intelligence V (pp. 84–105)

Castro, A. J. and Oliveira, E. (2011). A new concept for disruption management in airline operations control. Proceedings of the Institution of Mechanical Engineers, Part G: Journal of Aerospace Engineering, 225 (3), pp. 269–290

Castro, A. J., Pereira, A., Fraga, L., Rocha, A. P. and Oliveira, E. (2011). A Negotiation Based Approach to Airline Operations Recovery. Procedings of the 15th Portuguese Conference on Artificial Intelligence (EPIA 2011) (pp. 122-136)

Urbano, J., Rocha, A. P. and Oliveira, E. (2011). A dynamic agents' behavior model for computational trust. Portuguese Conference on Artificial Intelligence (pp. 536–550)

Teixeira, J., Sarmento, L. and Oliveira, E. (2011). A bootstrapping approach for training a NER with conditional random fields. Portuguese Conference on Artificial Intelligence (pp. 664–678)

Urbano, J., Rocha, A. P. and Oliveira, E. (2010). Trustworthiness tendency incremental extraction using information gain. Web Intelligence and Intelligent Agent Technology (WI-IAT), 2010 IEEE/WIC/ACM International Conference on (pp. 411–414)

Urbano, J., Rocha, A. P. and Oliveira, E. (2010). Trust estimation using contextual fitness. KES International Symposium on Agent and Multi-Agent Systems: Technologies and Applications (pp. 42–51)

Timoteo, I., Araujo, M., Rossetti, R. and Oliveira, E. (2010). TraSMAPI: An API oriented towards multi-agent systems real-time interaction with multiple traffic simulators. IEEE Conference on Intelligent Transportation Systems, Proceedings, ITSC (pp. 1183-1188)

Laboreiro, G., Sarmento, L., Teixeira, J. and Oliveira, E. (2010). Tokenizing micro-blogging messages using a text classification approach. Proceedings of the fourth workshop on Analytics for noisy unstructured text data (pp. 81–88)

Gonçalves, C. A., Gonçalves, C. T., Camacho, R., Oliveira, E. C. and Fred, A. L. (2010). The Impact of Pre-processing on the Classification of MEDLINE Documents.. PRIS (pp. 53–61)

Urbano, J., Rocha, A. P. and Oliveira, E. C. (2010). Refining the Trustworthiness Assessment of Suppliers through Extraction of Stereotypes.. ICEIS (2) (pp. 85–92)

Urbano, J., Cardoso, H. L. and Oliveira, E. (2010). Making electronic contracting operational and trustworthy. Ibero-American Conference on Artificial Intelligence (pp. 264–273)

Ramos-Pollán, R., Guevara-López, M. Á. and Oliveira, E. (2010). Introducing ROC curves as error measure functions: a new approach to train ANN-based biomedical data classifiers. Iberoamerican Congress on Pattern Recognition (pp. 517–524)

Urbano, J., Rocha, A. P. and Oliveira, E. (2010). In the search of better deals using trust. Workshop on Intelligent Agents and Technologies for e-Business (IAT4EB) (pp. 25)

Urbano, J., Rocha, A. P. and Oliveira, E. (2010). Extracting trustworthiness tendencies using the frequency increase metric. International Conference on Enterprise Information Systems (pp. 208–221)

Danek, A., Urbano, J., Rocha, A. P. and Oliveira, E. (2010). Engaging the dynamics of trust in computational trust and reputation systems. KES International Symposium on Agent and Multi-Agent Systems: Technologies and Applications (pp. 22–31)

Castro, A. J. and Oliveira, E. (2010). Disruption management in airline operations control–an intelligent agent-based approach. Web Intelligence and Intelligent Agents

Cardoso, H. L. and Oliveira, E. (2010). Directed deadline obligations in agent-based business contracts. Coordination, Organizations, Institutions and Norms in Agent Systems V (pp. 225–240)

Teixeira, J., Sarmento, L. and Oliveira, E. (2010). Comparing verb synonym resources for portuguese. International Conference on Computational Processing of the Portuguese Language (pp. 100–109)

Silva, R. S., Sarmento, L., Grant, T., Oliveira, E. and Maia, B. (2010). Comparing sentence-level features for authorship analysis in Portuguese. 9th INTERNATIONAL CONFERENCE PROPOR

Vinhas, V., Oliveira, E. and Reis, L. (2010). BIOSTORIES Dynamic Multimedia Interfaces based on Automatic Real-time User Emotion Assessment. ICEIS 2010: PROCEEDINGS OF THE 12TH INTERNATIONAL CONFERENCE ON ENTERPRISE INFORMATION SYSTEMS, VOL 5: HUMAN-COMPUTER INTERACTION (pp. 21-29)

Portela, J., Abreu, P., Reis, L., Oliveira, E. and Garganta, J. (2010). An intelligent framework for automatic event detection in robotic soccer games: An auxiliar tool to help coaches improve their teams' performance. ICEIS 2010 - Proceedings of the 12th International Conference on Enterprise Information Systems (pp. 244-249)

Hormazábal, N., Cardoso, H. L., De La Rosa, J. L. and Oliveira, E. (2010). An approach for virtual organisations' dissolution. Coordination, organizations, institutions and norms in agent systems V (pp. 70–85)

Passos, L., Rossetti, R. and Oliveira, E. (2010). Ambient-centred intelligent traffic control and management. IEEE Conference on Intelligent Transportation Systems, Proceedings, ITSC (pp. 224-229)

Silva, D., Braga, R., Reis, L. and Oliveira, E. (2010). A generic model for a robotic agent system using GAIA methodology: Two distinct implementations. 2010 IEEE Conference on Robotics, Automation and Mechatronics, RAM 2010 (pp. 280-285)

Martins, C. T., Soares, A. L. and Oliveira, E. (2010). A Conceptual Map to Clarify the Inter-Organizational Business Processes Domains. Conference Innovation in Extended enterprise - Summer School, 5-8 July Brindisi, Italy

Sarmento, L., Oliveira, E., Gouyon, F. and Costa, B. (2009). Visualizing networks of music artists with rama. Proceedings of the Fifth International Conference on Web Information Systems and Technologies (WEBIST 2009), Lisbon, Portugal, March 23-26, 2009

Castro, A. J. and Oliveira, E. (2009). Using quality costs in a multi-agent system for an airline operations control. ICEIS 2009: PROCEEDINGS OF THE 11TH INTERNATIONAL CONFERENCE ON ENTERPRISE INFORMATION SYSTEMS, VOL AIDSS

Goncalves, J. F. B., Rossetti, R. J. F., Esteves, E. F. and Oliveira, E. C. (2009). TOWARDS A MICROSCOPIC TRAFFIC SIMULATION FRAMEWORK TO ASSESS VEHICLE-TO-VEHICLE NETWORKS. 7TH INDUSTRIAL SIMULATION CONFERENCE 2009 (pp. 183-190)

Pereira, J. L. F., Rossetti, R. J. F. and Oliveira, E. C. (2009). Towards a Cooperative Traffic Network Editor. COOPERATIVE DESIGN, VISUALIZATION, AND ENGINEERING, PROCEEDINGS (pp. 236-239)

Silva, M. J., Carvalho, P., Sarmento, L., de Oliveira, E. and Magalhaes, P. (2009). The design of OPTIMISM, an opinion mining system for Portuguese politics. Proceedings the Fourteenth Portuguese Conference on Artificial Intelligence (EPIA 2009) (pp. 565–576)

Goncalves, J. F. B., Esteves, E. F., Rossetti, R. J. F. and Oliveira, E. (2009). Simulating Communication in a Service-Oriented Architecture for V2V Networks. PROGRESS IN ARTIFICIAL INTELLIGENCE, PROCEEDINGS (pp. 15-26)

Lopes Cardoso, H. and Oliveira, E. (2009). Risk Tolerance and Social Awareness: Adapting Deterrence Sanctions to Agent Populations. Progress in Artificial Intelligence – Proceedings of the 14th Portuguese Conference on Artificial Intelligence (EPIA 2009)

Vinhas, V., Silva, D., Reis, L. and Oliveira, E. (2009). REAL-TIME BIOMETRIC EMOTION ASSESSMENT IN AN IMMERSIVE ENVIRONMENT. ICINCO 2009: PROCEEDINGS OF THE 6TH INTERNATIONAL CONFERENCE ON INFORMATICS IN CONTROL, AUTOMATION AND ROBOTICS, VOL 2: ROBOTICS AND AUTOMATION (pp. 153-158)

Castro, A. J. and Oliveira, E. (2009). Quantifying quality operational costs in a multi-agent system for airline operations recovery. International Review on Computers & Software, 4 (4), pp. 504–516

Sarmento, L., Nunes, S., Teixeira, J. and Oliveira, E. (2009). Propagating fine-grained topic labels in news snippets. Web Intelligence and Intelligent Agent Technologies, 2009. WI-IAT'09. IEEE/WIC/ACM International Joint Conferences on (pp. 515–518)

Sarmento, L., Gouyon, F. and Oliveira, E. (2009). Music artist tag propagation with wikipedia abstracts. Proceeding of the Workshop on Information Retrieval over Social Networks, European Conference on Information Retrieval (ECIR), Tolouse

Cardoso, H. L. and Oliveira, E. (2009). Monitoring directed obligations with flexible deadlines: A rule-based approach. International workshop on declarative agent languages and technologies (pp. 51–67)

Lopes Cardoso, H. and Oliveira, E. (2009). Monitoring cooperative business contracts in an institutional environment. Proceedings of the 11th International Conference on Enterprise Information Systems (ICEIS 2009)

Castro, A. J., Mota, A., Reis, L. P. and Oliveira, E. (2009). Minimizing airport peaks problem by improving airline operations performance through an agent based system. Progress in Artificial Intelligence: Proceedings of the 14th Portuguese Conference on Artificial Intelligence, EPIA2009

Sarmento, L., Trezentos, P., Gonçalves, J. P. and Oliveira, E. (2009). Inferring local synonyms for improving keyword suggestion in an on-line advertisement system. Proceedings of the Third International Workshop on Data Mining and Audience Intelligence for Advertising (pp. 37–45)

Cardoso, H. L. and Oliveira, E. (2009). Flexible deadlines for directed obligations in agent-based business contracts. Proceedings of The 8th International Conference on Autonomous Agents and Multiagent Systems-Volume 2 (pp. 1307–1308)

Sarmento, L., Carvalho, P. and Oliveira, E. (2009). Exploring the vector space model for finding verb synonyms in Portuguese. Proceedings of the International Conference RANLP-2009 (pp. 393–398)

Cardoso, H. L., Teixeira, D. D. and Oliveira, E. (2009). Enhancing interoperability: Ontology-mapping in an electronic institution. Agent-Based Technologies and Applications for Enterprise Interoperability (pp. 47–62)

Vinhas, V., Reis, L. and Oliveira, E. (2009). EMOTION-BASED MULTIMEDIA RETRIEVAL AND DELIVERY THROUGH ONLINE USER BIOSIGNALS Multichannel Online Biosignals Towards Adaptative GUI and Content Delivery. ICAART 2009: PROCEEDINGS OF THE INTERNATIONAL CONFERENCE ON AGENTS AND ARTIFICIAL INTELLIGENCE (pp. 232-237)

Sarmento, L., Kehlenbeck, A., Oliveira, E. and Ungar, L. (2009). Efficient Clustering of Web-Derived Data Sets. Machine Learning and Data Mining in Pattern Recognition: 6th International Conference, MLDM 2009, Leipzig, Germany, July 23-25, 2009, Proceedings (pp. 398–412)

Urbano, J., Rocha, A. P. and Oliveira, E. (2009). E.: Trust Evaluation for Reliable Electronic Transactions between Business Partners. Procs. The AAMAS 2009 Workshop on Agent-based Technologies and applications for enterprise interOPerability (ATOP), Budapest

Vinhas, V., Silva, D., Oliveira, E. and Reis, L. (2009). Dynamic multimedia environment based on realtime user emotion assessment: Biometric user data towards affective immersive environments. ICEIS 2009 - 11th International Conference on Enterprise Information Systems, Proceedings (pp. 42-47)

Vinhas, V., Reis, L. and Oliveira, E. (2009). DYNAMIC MULTIMEDIA CONTENT DELIVERY BASED ON REAL-TIME USER EMOTIONS Multichannel Online Biosignals Towards Adaptative GUI and Content Delivery. BIOSIGNALS 2009: PROCEEDINGS OF THE INTERNATIONAL CONFERENCE ON BIO-INSPIRED SYSTEMS AND SIGNAL PROCESSING (pp. 299-304)

Esteves, E., Rossetti, R., Ferreira, P. and Oliveira, E. (2009). Conceptualization and implementation of a microscopic pedestrian simulation platform. Proceedings of the ACM Symposium on Applied Computing (pp. 2105-2106)

Urbano, J., Rocha, A. P. and Oliveira, E. (2009). Computing confidence values: Does trust dynamics matter?. Portuguese Conference on Artificial Intelligence (pp. 520–531)

Silva, D., Vinhas, V., Reis, L. and Oliveira, E. (2009). Biometric Emotion Assessment and Feedback in an Immersive Digital Environment. INTERNATIONAL JOURNAL OF SOCIAL ROBOTICS, 1 (4), pp. 307-317

Teixeira, J., Vinhas, V., Paulo Reis, L. and Oliveira, E. (2009). AUTOMATIC EMOTION INDUCTION AND ASSESSMENT FRAMEWORK Enhancing User Interfaces by Interperting Users Multimodal Biosignals. BIOSIGNALS 2009: PROCEEDINGS OF THE INTERNATIONAL CONFERENCE ON BIO-INSPIRED SYSTEMS AND SIGNAL PROCESSING (pp. 487-490)

Ferreira, P., Esteves, E., Rossetti, R. and Oliveira, E. (2009). Applying situated agents to microscopic traffic modelling. Multi-Agent Systems for Traffic and Transportation Engineering (pp. 108-123)

de Morais, L. A. D. F., da Costa Oliveira, E. and others, (2009). An Approach to Web-scale Named-Entity Disambiguation. Proceedings of the International Conference on Machine Learning and Data Mining (MLDM) 2009

Silva, D., Silva, R., Reis, L. and Oliveira, E. (2009). AIRCRAFT CONTROL STRATEGIES IN A DISTRIBUTED COOPERATIVE MISSION SIMULATION ENVIRONMENT. ECEC/FUBUTEC'2009:16TH EUROPEAN CONCURRENT ENGINEERING CONFERENCE: 6TH FUTURE BUSINESS TECHNOLOGY CONFERENCE (pp. 35-41)

Silva, D., Silva, R., Reis, L. and Oliveira, E. (2009). Agent-Based Aircraft Control Strategies in a Simulated Environment. AGENTS FOR GAMES AND SIMULATIONS: TRENDS IN TECHNIQUES, CONCEPTS AND DESIGN (pp. 190-205)

Cardoso, H. L. and Oliveira, E. (2009). Adaptive deterrence sanctions in a normative framework. Proceedings of the 2009 IEEE/WIC/ACM International Joint Conference on Web Intelligence and Intelligent Agent Technology-Volume 02 (pp. 36–43)

Urbano, J., Rocha, A. P. and Oliveira, E. (2009). A trust aggregation engine that uses contextual information. Proceedings of EUMAS2009

Esteves, E. F., Rossetti, R. J. F. and Oliveira, E. C. (2009). A SOFTWARE ENVIRONMENT FOR MICROSCOPIC PEDESTRIAN SIMULATION. 7TH INDUSTRIAL SIMULATION CONFERENCE 2009 (pp. 173-177)

Castro, A. J. and Oliveira, E. (2009). A multi-agent system for airline operations control. 7th International Conference on Practical Applications of Agents and Multi-Agent Systems (PAAMS 2009) (pp. 159–168)

Cardoso, H. L. and Oliveira, E. (2009). A context-based institutional normative environment. Coordination, organizations, institutions and norms in agent systems IV (pp. 140–155)

Cardoso, H., Rocha, A. and Oliveira, E. (2008). Virtual Organization Support through Electronic Institutions and Normative Multi-Agent Systems. Concepts, Methodologies, Tools, and Applications - Intelligent Information Technologies (pp. 1684-1701)

Gimenes, R., Silva, D. C., Reis, L. P. and Oliveira, E. (2008). Using Flight Simulation Environments with Agent-Controlled UAVs. Autonomous Robot Systems and Competitions: Proceedings of the 8th Conference

Martins, C. T., Azevedo, A., Pinto, H. S. and Oliveira, E. (2008). Towards an ontology mapping process for business process composition. Innovation in Manufacturing Networks (pp. 169–176)

Rossetti, R. J. F., Ferreira, P. A. F., Braga, R. A.A. and Oliveira, E. C. (2008). Towards an Artificial Traffic Control System. PROCEEDINGS OF THE 11TH INTERNATIONAL IEEE CONFERENCE ON INTELLIGENT TRANSPORTATION SYSTEMS (pp. 14-19)

Castro, A. and Oliveira, E. (2008). The rationale behind the development of an airline operations control centre using Gaia-based methodology. International Journal of Agent-Oriented Software Engineering, 2 (3), pp. 350–377

Castro, A. and Oliveira, E. (2008). Solving airline operations problems using specialized agents in a distributed multi-agent system. Lecture Notes in Business Information Processing, 12 LNBIP, pp. 173-184

Vinhas, V., Oliveira, E. and Reis, L. (2008). Realtime Dynamic Multimedia Storyline Based on Online Audience Biometric Information. NEW DIRECTIONS IN INTELLIGENT INTERACTIVE MULTIMEDIA (pp. 545-554)

Fernandes, O. R., Rocha, A. P. and Oliveira, E. (2008). Ontology development in home automation used in automatic VE formation. Innovation in Manufacturing Networks (pp. 161–168)

Cardoso, H. L. and Oliveira, E. C. (2008). Norm Defeasibility in an Institutional Normative Framework.. ECAI (pp. 468–472)

Teixeira, J., Vinhas, V., Oliveira, E. and Reis, L. (2008). MULTICHANNEL EMOTION ASSESSMENT FRAMEWORK Gender and High-Frequency Electroencephalography as Key-Factors. ICEIS 2008: PROCEEDINGS OF THE TENTH INTERNATIONAL CONFERENCE ON ENTERPRISE INFORMATION SYSTEMS, VOL HCI: HUMAN-COMPUTER INTERACTION (pp. 331-334)

Braga, R., Petry, M., Oliveira, E. and Reis, L. (2008). Multi-level control of an intelligent wheelchair in a hospital environment using a Cyber-Mouse simulation system. ICINCO 2008: PROCEEDINGS OF THE FIFTH INTERNATIONAL CONFERENCE ON INFORMATICS IN CONTROL, AUTOMATION AND ROBOTICS, VOL RA-2: ROBOTICS AND AUTOMATION, VOL 2 (pp. 179-182)

Teixeira, J., Vinhas, V., Oliveira, E. and Reis, L. (2008). General-Purpose Emotion Assessment Testbed Based on Biometric Information. NEW DIRECTIONS IN INTELLIGENT INTERACTIVE MULTIMEDIA (pp. 533-543)

Gimenes, R., Silva, D., Reis, L. and Oliveira, E. (2008). FLIGHT SIMULATION ENVIRONMENTS APPLIED TO AGENT-BASED AUTONOMOUS UAVS. ICEIS 2008 : PROCEEDINGS OF THE TENTH INTERNATIONAL CONFERENCE ON ENTERPRISE INFORMATION SYSTEMS, VOL SAIC: SOFTWARE AGENTS AND INTERNET COMPUTING (pp. 243-246)

Ferreira, P., Esteves, E., Rossetti, R. J. and Oliveira, E. C. (2008). Extending microscopic traffic modelling with the concept of situated agents. Proc. of the 5th Workshop on Agents in Traffic and Transportation, AAMAS (pp. 87–93)

Sarmento, L., Teixeira, J. and Oliveira, E. C. (2008). Experiments with Query Expansion in the RAPOSA (FOX) Question Answering System.. CLEF (Working Notes)

Teixeira, J., Vinhas, V., Reis, L. and Oliveira, E. (2008). Emotion assessment tool for human-machine interfaces - Using EEG data and multimedia stimuli towards emotion classification. SIGMAP 2008: PROCEEDINGS OF THE INTERNATIONAL CONFERENCE ON SIGNAL PROCESSING AND MULTIMEDIA APPLICATIONS (pp. 185-188)

Cardoso, H. L. and Oliveira, E. (2008). Electronic institutions for B2B: dynamic normative environments. Artificial Intelligence and Law, 16 (1), pp. 107–128

Nunes, L. and Oliveira, E. (2008). Communication during learning in heterogeneous teams of learning agents. Intelligent Decision Technologies, 2 (3), pp. 153–166

Sarmento, L., Teixeira, J. and Oliveira, E. (2008). Assessing the impact of thesaurus-based expansion techniques in QA-centric IR. Workshop of the Cross-Language Evaluation Forum for European Languages (pp. 325–332)

Lopes Cardoso, H., Teixeira, D. D. and da Costa Oliveira, E. (2008). An ontology-mapping service for agent-based automated negotiation. Proceedings of The AAMAS' 08 Workshop on Agent-based Technologies and Applications for Enterprise Interoperability (ATOP)

Teixeira, J., Vinhas, V., Oliveira, E. and Reis, L. (2008). A new approach to emotion assessment based on biometric data. Proceedings - 2008 IEEE/WIC/ACM International Conference on Web Intelligence and Intelligent Agent Technology - Workshops, WI-IAT Workshops 2008 (pp. 505-511)

Ferreira, P. A. F., Esteves, E. F., Rossetti, R. J. F. and Oliveira, E. C. (2008). A Cooperative Simulation Framework for Traffic and Transportation Engineering. COOPERATIVE DESIGN, VISUALIZATION, AND ENGINEERING, PROCEEDINGS (pp. 89-97)

Cardoso, H. L. and Oliveira, E. (2008). A contract model for electronic institutions. Coordination, Organizations, Institutions, and Norms in Agent Systems III (pp. 27–40)

Castro, A. J. and Oliveira, E. (2007). Using specialized agents in a distributed MAS to solve airline operations problems: a case study. Proceedings of the 2007 IEEE/WIC/ACM International Conference on Intelligent Agent Technology (pp. 473–476)

Rossetti, R. J., Oliveira, E. C. and Bazzan, A. L. (2007). Towards a specification of a framework for sustainable transportation analysis. 13th Portuguese Conference on Artificial Intelligence, Guimarães, Portugal

Castro, A. J. and Oliveira, E. (2007). Solving airline operations problems using specialized agents in a distributed multi-agent system. International Conference on Enterprise Information Systems (pp. 173–184)

Sarmento, L., Jijkuon, V., De Rijke, M. and Oliveira, E. (2007). More like these: growing entity classes from seeds. Proceedings of the sixteenth ACM conference on Conference on information and knowledge management (pp. 959–962)

Sarmento, L. and Oliveira, E. C. (2007). Making RAPOSA (FOX) Smarter.. CLEF (Working Notes)

Lopes Cardoso, H. and Oliveira, E. (2007). Institutional reality and norms: Specifying and monitoring agent organizations. International Journal of Cooperative Information Systems, 16 (01), pp. 67–95

Nogueira, L. and Oliveira, E. (2007). Improving brokering adaptation in dynamic heterogeneous environments. International Journal of Product Lifecycle Management, 2 (2), pp. 113–134

Pereira, D., Oliveira, E. and Moreira, N. (2007). Formal modelling of emotions in BDI agents. International Workshop on Computational Logic in Multi-Agent Systems (pp. 62–81)

Moura, D. and Oliveira, E. (2007). Fighting fire with agents: an agent coordination model for simulated firefighting. Proceedings of the 2007 spring simulation multiconference-Volume 2 (pp. 71–78)

Malucelli, A., Fadel, L. M., Oliveira, E. and others, (2007). Drugs Trading in the Hospital Pharmacies Through a Multi-Agent Electronic Market. Medinfo 2007: Proceedings of the 12th World Congress on Health (Medical) Informatics; Building Sustainable Health Systems (pp. 1656)

Castro, A. and Oliveira, E. (2007). A distributed multi-agent system to solve airline operations problems. ICEIS 2007: PROCEEDINGS OF THE NINTH INTERNATIONAL CONFERENCE ON ENTERPRISE INFORMATION SYSTEMS: ARTIFICIAL INTELLIGENCE AND DECISION SUPPORT SYSTEMS

De Oliveira, D., Bazzan, A., Da Silva, B., Basso, E., Nunes, L., Rossetti, R., De Oliveira, E., Da Silva, R. and Lamb, L. (2006). Reinforcement learning-based control of traffic lights in non-stationary environments: A case study in a microscopic simulator. CEUR Workshop Proceedings

Malucelli, A., Palzer, D. and Oliveira, E. (2006). Ontology-based Services to help solving the heterogeneity problem in e-commerce negotiations. Electronic Commerce Research and Applications, 5 (1), pp. 29–43

Pereira, D., Oliveira, E. and Moreira, N. (2006). Modelling emotional BDI agents. Workshop on Formal Approaches to Multi-Agent Systems (FAMAS 2006), Riva Del Garda, Italy (August 2006)

Moura, D. and Oliveira, E. (2006). Fighting Fire with Agents. EUMAS

Malucelli, A., de Castro, A. J. M. and da Costa Oliveira, E. (2006). Crew and aircraft recovery through a multi-agent airline electronic market. IADIS International COnference e-Commerce

Cardoso, H. L., Leitão, P. and Oliveira, E. (2006). An approach to inter-organizational workflow management in an electronic institution. IFAC Proceedings Volumes, 39 (3), pp. 429–434

Rocha, A. P., Cardoso, H. L. and Oliveira, E. (2005). Virtual Enterprise Integration: Technological and Organizational Perspectives, chapter Ch. XI-Contributions to an Electronic Institution supporting Virtual Enterprises' life cycle. Idea Group Inc, pp. 229–246

Malucelli, A. and Oliveira, E. (2005). Using Similarity Measures for an Efficient Business Information-Exchange. Intelligent Agent Technology, IEEE/WIC/ACM International Conference on (pp. 234–237)

Cardoso, H. L. and Oliveira, E. (2005). Towards an institutional environment using norms for contract performance. International Central and Eastern European Conference on Multi-Agent Systems (pp. 256–265)

Oliveira, E. and Duarte, N. (2005). Making way for emergency vehicles. Proceedings of the 2005 European Simulation and Modelling Conference (pp. 135)

Oliveira, E. and Nunes, L. (2005). Learning by exchanging Advice. Design of Intelligent Multi-Agent Systems (pp. 279–313)

Cardoso, H. L., Malucelli, A., Rocha, A. P. and Oliveira, E. (2005). Institutional services for dynamic virtual organizations. Working Conference on Virtual Enterprises (pp. 521–528)

Malucelli, A., Cardoso, H. L. and Oliveira, E. (2005). Enriching a MAS environment with institutional services. International Workshop on Environments for Multi-Agent Systems (pp. 105–120)

Cardoso, H. L. and Oliveira, E. (2005). Coordination, Teamwork, Social Knowledge and Social Reasoning-Towards an Institutional Environment Using Norms for Contract Performance. Lecture Notes in Computer Science, 3690, pp. 256–265

Rocha, A. P., Lopes Cardoso, H. and Oliveira, E. (2005). Contributions to an electronic Institution supporting Virtual Enterprises' life cycle. Virtual Enterprise Integration: Technological and Organizational Perspectives (pp. 229-246)

Nunes, L. and Oliveira, E. (2005). Communicating during learning. Workshop on Cooperation and Multiagent Learning, co-located with ECML'05

Malucelli, A., Palzer, D. and Oliveira, E. (2005). Combining ontologies and agents to help in solving the heterogeneity problem in e-commerce negotiations. Data Engineering Issues in E-Commerce, 2005. Proceedings. International Workshop on (pp. 26–35)

da Costa Oliveira, E. and Cardoso, H. D. d. A. L. (2005). Assisting and regulating virtual enterprise interoperability through contracts. Agent-based Technologies and applications for enterprise interoperability (ATOP)

Proença, H. and Oliveira, E. (2005). An Adaptive Multi-Agent System for Railway Traffic Control. GESTS International Transactions, 9 (1)

Nunes, L. and Oliveira, E. (2005). Advice-exchange between evolutionary algorithms and reinforcement learning agents: Experiments in the pursuit domain. Adaptive Agents and Multi-Agent Systems II (pp. 185–204)

da Costa Oliveira, E. and de Castro, A. J. M. (2005). A multi-agent system for intelligent monitoring of airline operations. Proceedings of EUMAS 05, 3rd European Workshop on Multi-Agent Systems

Paiva, A., Martinho, C. and de Oliveira, E. (2005). 12th Portuguese Conference on Artificial Intelligence, EPIA 2005 Covilha, Portugal, December 5-8, 2005-Introduction. PROGRESS IN ARTIFICIAL INTELLIGENCE, PROCEEDINGS, 3808, pp. 101–101

Cardoso, H. L. and Oliveira, E. (2004). Virtual enterprise normative framework within electronic institutions. International Workshop on Engineering Societies in the Agents World (pp. 14–32)

Malucelli, A. and Oliveira, E. (2004). Towards to Similarity Identification to help in the Agents' Negotiation. Brazilian Symposium on Artificial Intelligence (pp. 536–545)

da Costa Oliveira, E. and Marques, H. M. G. (2004). Stereoscopic depth: a biological inspired judgement. BICS 04-Brain Insoired Cognitive Systems

Oliveira, E. and Malucelli, A. (2004). Ontology-Services Agent to help in the Structural and Semantic Heterogeneity. PRO-VE 04-5th IFIP Working Conference on Virtual Enterprises

Mota, D., Oliveira, E. and Mouta, F. (2004). MyClass: A Web-based system to support interactive learning in virtual environments. Workshop on Modelling Human Teaching. Tactics and Strategies

Alves, A., Camacho, R. and Oliveira, E. (2004). Model Validation: A statistical-based criterium of hypotheses acceptance in numerical reasoning. Proc. 14th Int. Conf. Inductive Logic Program

Proenca, H. and Oliveira, E. (2004). MARCS multi-agent railway control system. Ibero-American Conference on Artificial Intelligence (pp. 12–21)

Alves, A., Camacho, R. and Oliveira, E. (2004). Machine Learning and Knowledge Acquisition-Improving Numerical Reasoning Capabilities of Inductive Logic Programming Systems. Lecture Notes in Computer Science, 3315, pp. 195–204

Nunes, L. and Oliveira, E. (2004). Learning from multiple sources. Proceedings of the Third International Joint Conference on Autonomous Agents and Multiagent Systems-Volume 3 (pp. 1106–1113)

Alves, A., Camacho, R. and Oliveira, E. (2004). Inductive logic programming for data mining in economics. Proceedings of the 2nd International Workshop on Data Mining and Adaptive Modelling Methods for Economics and Management

Alves, A., Camacho, R. and Oliveira, E. (2004). Improving numerical reasoning capabilities of inductive logic programming systems. Ibero-American Conference on Artificial Intelligence (pp. 195–204)

Nogueira, L. and Oliveira, E. (2004). Identifying Classes of Users to Facilitate Negotiation. Processes and Foundations for Virtual Organizations (pp. 527–534)

de Morais, L. A. D. F., de Moura, D. C., da Costa Oliveira, E. and others, (2004). Fighting fire with fear. Proceedings of EUMAS 04, 2nd European Workshop on Multi-Agente Systems

Alves, A., Camacho, R. and Oliveira, E. (2004). Discovery of functional relationships in multi-relational data using inductive logic programming. null (pp. 319–322)

Malucelli, A., Rocha, A. P. and Oliveira, E. (2004). B2B Transactions Enhanced with Ontology-Based Services.. ICETE (1) (pp. 10–17)

Proenca, H. and Oliveira, E. (2004). 2 FEUP/LIACC-NIADR, FEUP, Av. Dr. Roberto Frias 4200-465, Porto, Portugal eco\textregistered fe. up. pt. Advances in Artificial Intelligence–IBERAMIA 2004: 9th Ibero-American Conference on AI, Puebla, Mexico, November 22-26, 2004, Proceedings (pp. 12)

Malucelli, A. and da Costa Oliveira, E. (2003). Ontology-services to facilitate agents' interoperability. Intelligent Agents and Multi-Agent Systems, pp. 170–181

Alves, A., de Sousa Ferreira, R. C. C., da Costa Oliveira, E. and others, (2003). Learning time series models with inductive logic programming. Proceedings de EUROPEAN SYMPOSIUM ON INTELLIGENT TECHNOLOGIES, HYBRID SYSTEMS AND THEIR IMPLEMENTATION ON SMART ADAPTIVE SYSTEMS, EUNITE 2003

Nogueira, L. and Oliveira, E. C. (2003). Learning preferences to provide advice.. ISPE CE (pp. 129–134)

Nunes, L. and Oliveira, E. (2003). Exchanging advice and learning to trust. International Workshop on Cooperative Information Agents (pp. 250–265)

Oliveira, E. and Sarmento, L. (2003). Emotional advantage for adaptability and autonomy. Proceedings of the second international joint conference on Autonomous agents and multiagent systems (pp. 305–312)

Nunes, L. and Oliveira, E. (2003). Cooperative learning using advice exchange. Adaptive agents and multi-agent systems (pp. 33–48)

Nogueira, L. and Oliveira, E. (2003). Brokering in electronic insurance markets. International Central and Eastern European Conference on Multi-Agent Systems (pp. 574–583)

Oliveira, E. (2003). Agents' Advanced Features for Negotiation and. Multi-Agent Systems and Applications: 9th ECCAI Advanced Course ACAI 2001 and Agent Link's 3rd European Agent Systems Summer School, EASSS 2001, Prague, Czech Republic, July 2-13, 2001. Selected Tutorial Papers, 2086, pp. 173

Nunes, L. and Oliveira, E. (2003). Advice-exchange in heterogeneous groups of learning agents. Proceedings of the second international joint conference on Autonomous agents and multiagent systems (pp. 1084–1085)

Nunes, L. and Oliveira, E. (2003). Advice exchange between evolutionary algorithms and reinforcement learning agents: Experimental results in the pursuit domain. Proc. of the Second Symposium on Adaptive Agents and Multi-Agent Systems (AAMAS/AISB'03)

Nogueira, L. and Oliveira, E. (2003). A NEW APPROACH TO E-INSURANCE BROKERING. in Proceedings of the 2003 IADIS International Conference on e-Society

Oliveira, E. C., Pereira, G. A. and Gomes, C. (2002). Reliable Framework Architecture for Multi-Agents Systems Interaction.. CSCWD (pp. 276–281)

Nunes, L. and Oliveira, E. (2002). On learning by exchanging advice. arXiv preprint cs/0203010

Cardoso, H. L. and Oliveira, E. (2002). Including Marketing Strategies in the Electronic Commerce Framework. AgentLink Joint AMEC/ALAD SIGs meeting

Oliveira, E. and Sarmento, L. (2002). Emotional valence-based mechanisms and agent personality. Brazilian Symposium on Artificial Intelligence (pp. 152–162)

Nogueira, L. and Oliveira, E. (2002). A multi-agent system for e-insurance brokering. Net. ObjectDays: International Conference on Object-Oriented and Internet-Based Technologies, Concepts, and Applications for a Networked World (pp. 263–282)

Oliveira, E. and Rocha, A. P. (2001). Section I: Negotiation-Agents Advanced Features for Negotiation in Electronic Commerce and Virtual Organisations Formation Processes. Lecture Notes in Computer Science, 1991, pp. 78–97

Oliveira, E., Reis, J. and Mamede, N. (2001). Multi-agent Systems: Theory and Applications-Scheduling, Re-scheduling and Communication in the Multi-agent Extended Enterprise Environment. Lecture Notes in Computer Science, 2258, pp. 219–231

Rocha, A. P. and Oliveira, E. (2001). Electronic Institutions as a framework for Agents' Negotiation and mutual Commitment. Portuguese Conference on Artificial Intelligence (pp. 232–245)

Malheiro, B. and Oliveira, E. (2001). Argumentation as distributed belief revision: Conflict resolution in decentralised co-operative multi-agent systems. Portuguese Conference on Artificial Intelligence (pp. 205–218)

Oliveira, E. (2001). Agents′ Advanced Features for Negotiation and Coordination. ECCAI Advanced Course on Artificial Intelligence (pp. 173–186)

Reis, L. and Oliveira, E. (2001). A language for specifying complete timetabling problems. PRACTICE AND THEORY OF AUTOMATED TIMETABLING III, 2079, pp. 322-341

Lopes Cardoso, H. and Oliveira, E. (2000). Using and Evaluating Adaptive Agents for Electronic Commerce Negotiation. Advances in Artificial Intelligence (pp. 96–105)

Oliveira, E. and Malheiro, B. (2000). Solving conflicting believes with a distributed belief revision approach. Advances in Artificial Intelligence

Malheiro, B. and Oliveira, E. (2000). Solving conflicting beliefs with a distributed belief revision approach. Advances in Artificial Intelligence (pp. 146–155)

Reis, L., Lau, N. and Oliveira, E. (2000). Situation Based Strategic Positioning for Coordinating a Team of Homogeneous Agents. Balancing Reactivity and Social Deliberation in Multi-Agent Systems, From RoboCup to Real-World Applications (selected papers from the ECAI 2000 Workshop and additional contributions) (pp. 175-197)

Reis, L. P., Teixeira, P. and Oliveira, E. (2000). Examination Timetabling using Constraint Logic Programming. Proceedings of 3rd Int. Conf. on the Practice and Theory of Automated Timetabling PATAT (pp. 181–183)

da Costa Oliveira, E. and da Rocha, A. P. C. (2000). Agents advanced features for negotiation in Electronic Commerce and Virtual Organisations formation process. Agent Mediated Electronic Commerce: An European perspective

Cardoso, H. L. and Oliveira, E. (2000). A platform for electronic commerce with adaptive agents. International Workshop on Agent-Mediated Electronic Commerce (pp. 96–107)

Reis, L. P. and Oliveira, E. (2000). A language for specifying complete timetabling problems. International Conference on the Practice and Theory of Automated Timetabling (pp. 322–341)

Fernandes, J. M. and Oliveira, E. (1999). TraMas: traffic control through behaviour-based multi-agent system. Proc. of Practical Applications of Intelligent Agents and Multi-agent Systems (PAAM'99), pp. 457–458

Oliveira, E., Fischer, K. and Stepankova, O. (1999). Multi-agent systems: which research for which applications. Robotics and Autonomous Systems, 27 (1-2), pp. 91–106

Oliveira, E., Fonseca, J. M. and Jennings, N. R. (1999). Learning to be Competitive in the Market. American Association of Artificial Intelligence Workshop on Negotiation: Settling Conflicts and Identifying Opportunities, Orlando, USA, July 1999

Rocha, A. P. and Oliveira, E. (1999). Electronic Commerce: a technological perspective. O Futuro da Internet

Oliveira, E. (1999). Applications of intelligent agent-based systems. Simposio Brasileiro de Automacao Inteligente, Sao Paulo

Rocha, A. P. and Oliveira, E. (1999). An electronic market architecture for the formation of virtual enterprises. Working Conference on Virtual Enterprises (pp. 421–432)

Rocha, A. and Oliveira, E. (1999). A negotiation framework for the establishment of virtual organisations. PROCEEDINGS OF FOURTH INTERNATIONAL WORKSHOP ON CSCW IN DESIGN (pp. 301-307)

Cardoso, H. L., Schaefer, M. and Oliveira, E. (1999). A multi-agent system for electronic commerce including adaptive strategic behaviours. Portuguese Conference on Artificial Intelligence (pp. 252–266)

Reis, L. P. and Oliveira, E. (1999). A constraint logic programming approach to examination scheduling. Proc. Xth Irish Conference on Artificial Intelligence amp; Cognitive Science

Neves, M. C. and Oliveira, E. (1999). 1ntegrating Fuzzy Logic and Neural Networks in the Design of Navigation Competencies of an Autonomous Mohile Rohot. Computational Intelligence for Modelling, Control & Automation: Evolutionary Computation & Fuzzy Logic for Intelligent Control, Knowledge Acquisition & Information Retrieval, 55, pp. 178

Fonseca, J. M., Steiger-Garção, A. and Oliveira, E. (1998). User interface for multi-agent systems: a case study. Intelligent Systems for Manufacturing (pp. 625–632)

Malheiro, B., Varga, L. Z. and Oliveira, E. (1998). Beliefs and Conflicts in a Real World Multiagent System. Proceedings of the International ICSC Symposium on Engineering of Intelligent Systems (EIS'98)

Shmeil, M. H. and Oliveira, E. (1997). The establishment of partnerships to create virtual organizations: a multiagent approach. Re-engineering for sustainable industrial production (pp. 284–294)

Oliveira, E. (1997). Robots as responsible agents. Systems, Man, and Cybernetics, 1997. Computational Cybernetics and Simulation., 1997 IEEE International Conference on (pp. 2275–2279)

Mouta, F. and Oliveira, E. (1997). How an agent makes decisions while keeping responsiveness. Intelligent Processing Systems, 1997. ICIPS'97. 1997 IEEE International Conference on (pp. 154–158)

Shmeil, M. H. and Oliveira, E. (1997). Faculdade de Engenharia da Universidade do Porto Rua dos Bragas, 4099 Porto Codex, Portugal Tel+ 351-2-2004527 E-mail:(shmeil, eco)@ fe. up. pt. Re-Engineering for Sustainable Industrial Production: Proceedings of the OE/IFIP/IEEE International Conference on Integrated and Sustainable Industrial Production, Lisbon, Portugal, May 1997 (pp. 284)

Malheiro, B. and Oliveira, E. (1997). Environmental decision support: a multi-agent approach. Agents (pp. 540–541)

Neves, M. and Oliveira, E. (1997). A multi-agent approach for a mobile robot control system. Proceedings of Workshop on" Multi-Agent Systems: Theory and Applications"(MASTA'97-EPPIA'97)-Coimbra-Portugal (pp. 1–14)

Neves, M. C. and Oliveira, E. (1997). A control architecture for an autonomous mobile robot. Proceedings of the first international conference on Autonomous agents (pp. 193–200)

da Silva, A. J. F. and Oliveira, E. (1996). TARCA—An integrated system for diagnosis and treatment of cardiac arrhythmias. Brazilian Symposium on Artificial Intelligence (pp. 161–170)

Oliveira, E., Fonseca, J. and Steiger-Garção, A. (1996). Negotiation between economically motivated agents. Balanced Automation Systems II (pp. 329–338)

Malheiro, B. and Oliveira, E. (1996). Intelligent Distributed Environmental Decision Support System. Brazilian Symposium on Artificial Intelligence (pp. 171–180)

Malheiro, B. and Oliveira, E. (1996). Environmental decision support: A distributed artificial intelligence approach. International Symposium and Workshop on Environment and Interaction

Oliveira, E., Fonseca, J. M. and Steiger-Garção, A. (1996). Agent coalitions, negotiation and strategy adaptation. Proceedings of the 1st Iberoamerican Workshop on Distributed Artificial Intelligence and Multiagent Systems (pp. 99–108)

Lopes, P. and Oliveira, E. (1995). Solving partial occlusion with range images and 3D histograms. Industrial Electronics, Control, and Instrumentation, 1995., Proceedings of the 1995 IEEE IECON 21st International Conference on (pp. 1313–1318)

Malheiro, B. and Oliveira, E. (1995). Scandinavian Conference on Artificial Intelligence-95 41 A. Aamodt and J. Komorowski (Eds.) IOS Press, 1995. SCAI-95: Fifth Scandinavian Conference on Artificial Intelligence (pp. 41)

Malheiro, B. and Oliveira, E. (1995). Improving Assumption based Distributed Belief Revision. Frontiers in Artificial Intelligence and Applications, Fifth Scandinavian Conference on Artificial Intelligence (pp. 41–50)

Malheiro, B. and Oliveira, E. (1995). Distributed Belief Revision and Environmental Decision Support. V Congreso Iberoamericano de Inteligencia Artificial (pp. 78–92)

Augusto, M., Shmeil, H. and Oliveira, E. (1995). Detecting the Opportunities of Learning from the Interactions in a Society of Organizations. Brazilian Symposium on Artificial Intelligence (pp. 242–252)

Malheiro, B. and Oliveira, E. (1995). Consistency and context management in a multi-agent belief revision testbed. International Workshop on Agent Theories, Architectures, and Languages (pp. 361–375)

Malheiro, B. and Oliveira, E. (1995). An intelligent distributed system for environmental management. Environmental Informatics (pp. 355–370)

Oliveira, E. and Ramos, C. (1995). A cooperative multi-agent system for an assembly robotic cell. Advanced robotics, 10 (1), pp. 15–50

Oliveira, E. and Rocha, A. P. (1994). Negotiation and conflict resolution in a multi-agent system for an assembly robotics cell. Systems, Man, and Cybernetics, 1994. Humans, Information and Technology., 1994 IEEE International Conference on (pp. 605–611)

Oliveira, E. (1994). Cooperative multi-agent system for an assembly robotics cell. Robotics and computer-integrated manufacturing, 11 (4), pp. 311–317

Malheiro, B., Jennings, N. R. and Oliveira, E. (1994). Belief revision in multi-agent systems. Proceedings of the 11th European Conference on Artificial Intelligence (ECAI 94), Netherlands (pp. 294–298)

Oliveira, E., Mouta, F. and Rocha, A. P. (1993). Negotiation and conflict resolution within a community of cooperative agents. Autonomous Decentralized Systems, 1993. Proceedings. ISADS 93., International Symposium on (pp. 421–427)

Lopes, P. and Oliveira, E. (1993). Model based 3D object recognition using an accurate laser range finder. Industrial Electronics, Control, and Instrumentation, 1993. Proceedings of the IECON'93., International Conference on (pp. 1696–1701)

Lopes, P. and Oliveira, E. (1993). Identification of partially occluded objects using object chain code. Intelligent Robots and Systems' 93, IROS'93. Proceedings of the 1993 IEEE/RSJ International Conference on (pp. 1829–1834)

Ribeiro, F., Barthès, J. and Oliveira, E. (1993). Dynamic selection of action sequences. From Animals to Animats, 2, pp. 189–195

Oliveira, E., Mouta, F. and Rocha, A. P. (1993). Cooperation in a multi-agent community. Proceedings of the 13th International Conference on Artificial Intelligence, Expert Systems and Natural Language

da Costa Oliveira, E. and Mouta, F. A. (1993). A distributed ai architecture enabling multi-agent cooperation. Industrial and Engineering Applications of Artificial Intelligence and Expert Systems: Proceedings of the Sixth International Conference Held in Edinburgh, Scotland, June 1-4, 1993 (pp. 136)

Ramos, C. and Oliveira, E. (1992). Towards Intelligent Robotic Assemblies. International Conference on Industrial, Engineering and Other Applications of Applied Intelligent Systems (pp. 361–370)

Ramos, C. and Oliveira, E. (1992). Sensor-based reactive planning and execution for robotic assembly tasks. [Proceedings 1992] IEEE International Conference on Systems Engineering (pp. 135–138)

Lopes, P. and Oliveira, E. (1992). Range Finding for an Assembly Robotic System. Proceedings of the Canadian Conference on Electrical and Computer Engineering (CCECE-92) (pp. WM–6)

Ramos, C. and Oliveira, E. (1992). Planning, Execution and Sensor-Based Reaction for Assembly Robotic Tasks.. ECAI (pp. 676–680)

Mouta, F. A. and da Costa Oliveira, E. (1992). IX SIMPÓSIO BRASILEIRO DE INTELIGÊNCIA ARTIFICIAL 131. Anais, pp. 131

Ramos, C. and Oliveira, E. (1992). Closing the loop of task planning, action and sensing. Intelligent Robots and Systems, 1992., Proceedings of the 1992 lEEE/RSJ International Conference on (pp. 909–916)

Oliveira, E. and Qiegang, L. (1991). Towards a generic monitor for cooperation. Workshop on Blackboard Systems of the AAAI, California

Ramos, C. and Oliveira, E. (1991). The generation of efficient high level plans and the robot world representation in a cooperative community of robotic agents. Advanced Robotics, 1991.'Robots in Unstructured Environments', 91 ICAR., Fifth International Conference on (pp. 477–481)

Oliveira, E. and Ramos, C. (1991). Multi-agent cooperation for Assembly Robotics. Engineering systems with intelligence (pp. 107–115)

Ramos, C. and Oliveira, E. (1991). Intelligent task planning and execution on assembly robotics. Engineering systems with intelligence (pp. 99–106)

Oliveira, E., Silva, R. F. and Ramos, C. (1991). Intelligent Cooperation for Robotics. Expert systems and robotics (pp. 259–273)

Gouveia, F. A. R., Barthes, J. A. and Oliveira, E. C. (1991). Distributed architecture for intelligent robotics. Applications of Artificial Intelligence IX (pp. 516–524)

Oliveira, E., Qiegang, L. and Camacho, R. (1991). Controlling cooperative experts in a real time system. Software Engineering for Real Time Systems, 1991., Third International Conference on (pp. 176–181)

Rocha, J. and Oliveira, E. (1991). ARCA—An Integrated System for Cardiac Pathologies Diagnosis and Treatment. Knowledge Based Systems in Medicine: Methods, Applications and Evaluation (pp. 193–204)

Ramos, C. and Oliveira, E. (1991). An efficient approach to planning in assembly tasks. Portuguese Conference on Artificial Intelligence (pp. 210–221)

OLIVEIRA, E. and CAMACHO, R. (1991). A tool for cooperative expert systems. World Congress on Expert Systems, Orlando, Florida, USA

Oliveira, E. and Camacho, R. (1991). A shell for cooperating expert systems. Expert Systems, 8 (2), pp. 75–85

Oliveira, E., Camacho, R. and Ramos, C. (1991). A multi-agent environment in robotics. Robotica, 9 (4), pp. 431–440

Ramos, C. and Oliveira, E. (1989). Cooperation between Vision and Planning Agents in a Simple Simulated Robotics Environment. Intelligent Autonomous Systems 2, An International Conference (pp. 950–957)

Oliveira, E., Rocha, J., Abreu-Lima, C. and Marques de Sa, J. (1988). Integrated knowledge based system for cardiac pathologies diagnosis and therapy.. COMPUTERS IN CARDIOLOGY., 1988,, pp. 82

Oliveira, E., Rocha, J., Cunha, P. and dos Bragas, R. (1987). 4099 PORTO CODEX Portugal. Expert systems: theory & applications: IASTED international conference, Geneva, Switzerland, June 16-18, 1987 (pp. 126)

Oliveira, E. (1984). Developing expert systems builders in logic programming. New Generation Computing, 2 (2), pp. 187–194

Pereira, L. and Oliveira, E. (1983). Prolog for Expert Systems: A Case Study. IFAC Proceedings Volumes, 16 (20), pp. 73–82
Laboreiro, G. A. T. (2018). Noise reduction and normalization of microblogging messages. (Doctoral dissertation, Faculty of Engineering, University of Porto)

Lopes, G. D. L. F. (2018). Deep Learning for Market Forecasts. (Master's Thesis, Department of Informatics Engineering, Faculty of Engineering, University of Porto)

Fernandes, I. (2018). A Deep Learning Approach to Named Entity Recognition in Portuguese Texts. (Master's Thesis, Department of Informatics Engineering, Faculty of Engineering, University of Porto)

Abreu, C. F. M. (2016). Tecnologias de Codificação Assistida para uma Classificação Internacional de Doenças. (Master's Thesis, Faculty of Engineering, University of Porto)

Oliveira, N. F. B. (2016). Music-Based Procedural Content Generation for Games. (Master's Thesis, Department of Informatics Engineering, Faculty of Engineering, University of Porto)

de Almeida, D. M. (2016). Malware classification on time series data through machine learning. (Master's Thesis, Department of Informatics Engineering, Faculty of Engineering, University of Porto)

Nogueira, P. G. F. A. (2016). Emotional State Regulation in Interactive Environments: A Psychophysiological Adaptive Approach for Affect-Inductive Experiences. (Doctoral dissertation, Faculty of Engineering, University of Porto)

Pinto, D. J. A. (2016). Agent-based modeling framework for complex adaptive organizations. (Master's Thesis, Department of Informatics Engineering, Faculty of Engineering, University of Porto)

Tavares, B. X. F. (2015). Emotional Agents for Shooter Games: Understanding How Players' Emotional Profiles Influence Game Playouts. (Master's Thesis, Department of Informatics Engineering, Faculty of Engineering, University of Porto)

da Rocha Velho, N. J. (2014). Implementação iterativa do algoritmo counterfactual regret minimization. (Master's Thesis, Department of Informatics Engineering, Faculty of Engineering, University of Porto)

Silva, D. A. V. (2014). Desenvolvimento de Inteligências Artificiais Baseadas em Planeamento de Monte Carlo Temporal para Videojogos de Ação Furtiva. (Master's Thesis, Department of Informatics Engineering, Faculty of Engineering, University of Porto)

Teixeira, P. F. F. (2013). Human-in-the-Loop e Aprendizagem na Negociação Automática: Aplicação num Centro de Controlo Operacional Aéreo. (Master's Thesis, Faculty of Engineering, University of Porto)

Fernandes, H. M. P. L. (2013). Guiding Monte Carlo Tree Search simulations through Bayesian Opponent Modeling in The Octagon Theory. (Master's Thesis, Faculty of Engineering, University of Porto)

da Silva, J. P. S. F. (2013). Aprender com o Passado: Apoio à Negociação Automática nos Centros de Controlo Operacionais. (Master's Thesis, Faculty of Engineering, University of Porto)

de Pinho Valente Oliveira Gonçalves, C. T. M. (2013). A Tool for Text Mining in Molecular Biology Domains. (Doctoral dissertation, Faculty of Engineering, University of Porto)

Urbano, M. J. M. P. (2013). A Situation-aware and Social Computational Trust Model. (Doctoral dissertation, Faculty of Engineering, University of Porto)

do Nascimento Morais, A. J. (2013). A Multi-Agent Approach for Web Adaptation. (Doctoral dissertation, Faculty of Engineering, University of Porto)

de Castro, A. J. M. (2013). A Distributed Approach to Integrated and Dynamic Disruption Management in Airline Operations Control. (Doctoral dissertation, Faculty of Engineering, University of Porto)

Duarte, B. M. C. (2012). Opinion Mining: Extraction of opinionated profiles from comments on Web News. (Master's Thesis, Faculty of Engineering, University of Porto)

de Macedo Timóteo, I. J. P. (2012). Integration of heterogeneous hypotheses in multiagent learning. (Master's Thesis, Faculty of Engineering, University of Porto)

Carneiro, M. J. T. (2011). towards the discovery of temporal patterns in music listening using last.fm profiles. (Master's Thesis, Faculty of Engineering, University of Porto)

de Castro Silva, D. A. G. (2011). Noise reduction and normalization of microblogging messages. (Doctoral dissertation, Faculty of Engineering, University of Porto)

Pollan, R. R. (2011). Improving multilayer perceptron classifiers AUC performance. An approach in biomedical image analysis for breast cancer CAD supported by elnfrastructures. (Doctoral dissertation, Faculty of Engineering, University of Porto)

de Avelar Lopes Cardoso, H. D. (2011). Electronic Institutions with Normative Environments for Agent-based E-contracting. (Doctoral dissertation, Faculty of Engineering, University of Porto)

Teixeira, R. M. S. (2011). constructing taxonomies using results from portuguese news articles topic distillation. (Master's Thesis, Faculty of Engineering, University of Porto)

de Moura Paixão, J. P. A. L. (2011). Automatic collection of biographical data on the Web for public personalities. (Master's Thesis, Faculty of Engineering, University of Porto)

Machado, N. G. S. G. A. (2010). Impact of the organizational structure on operations management. (Master's Thesis, Faculty of Engineering, University of Porto)

de Morais Sarmento, L. A. D. F. (2010). Definition and Computation of Similarity Operations between Web-specific Lexical Items. (Doctoral dissertation, Faculty of Engineering, University of Porto)

Silva, F. G. A. (2009). Sistemas de Medida de Confiança para Selecção de Empresas em Sistemas B2B. (Master's Thesis, Faculty of Engineering, University of Porto)

da Rocha dos Santos, M. A. (2009). Detecção automática da polaridade em notícias sobre política. (Master's Thesis, Faculty of Engineering, University of Porto)

Cabral, L. M. (2007). SUPERB - Sistema Uniformizado de Pesquisa de Referências Bibliográficas. (Master's Thesis, Faculty of Engineering, University of Porto)

de Castro, A. J. M. (2007). Designing a Multi-Agent System for Monitoring and Operations Recovery for an Airline Operations Control Centre... (Master's Thesis, University of Porto)

da Cunha Ribas Fernandes, O. D. (2007). construção e exploração de ontologias para a negociação automática em empresas virtuais.. (Master's Thesis, University of Porto)

Raimundo, M. C. F. V. M. (2006). S.A.B.E.R. - Sistema de aprendizagem baseado no Ensino Real.. (Master's Thesis, University of Porto)

Malucelli, A. (2006). Ontology-Based Services for Agents Interoperability. (Doctoral dissertation, Faculty of Engineering, University of Porto)

Nunes, L. M. M. (2006). Learning from Multiple Sources in Heterogeneous Groups of Agents. (Doctoral dissertation, Faculty of Engineering, University of Porto)

de Moura, D. C. (2006). Coordinating a Team of Agents in the Firefighting Domain. (Master's Thesis, University of Porto)

Cardoso, N. F. P. F. (2006). Avaliação de Sistemas de Reconhecimento de Entidades Mencionadas.. (Master's Thesis, University of Porto)

dos Reis, L. P. G. (2003). Coordenação em Sistemas Multi-Agente: Aplicações na Gestão Universitária e Futebol Robótico. (Doctoral dissertation, Faculty of Engineering, University of Porto)

da Rocha, A. P. C. (2002). Metodologias de Negociação em Sistemas Multi-Agentes para Empresas Virtuais. (Doctoral dissertation, Faculty of Engineering, University of Porto)

Faria, P. M. T. (2001). Um Sistema de Construção Automática de Honorários em Universidades, Utilizando o Algoritmo de Arrefecimento Simulado. (Master's Thesis, Faculty of Engineering, University of Porto)

da Silva, P. N. M. L. (2001). Sistema Multi-Agente para Geração de Horários no Ensino Secundário. (Master's Thesis, University of Porto)

Fonseca, J. M. R. (2001). Protocolos de Negociação com Coligações em Sistemas Multi-Agente. (Doctoral dissertation, Faculty of Sciences and Technology, New University of Lisbon)

Pereira, A. M. C. (2001). Formação de Empresas Virtuais com Agentes Inteligentes. (Master's Thesis, University of Porto)

Malheiro, M. B. C. N. (2000). Metodologias de Revisão de Crenças em Sistemas Multi-Agente. (Doctoral dissertation, Faculty of Engineering, University of Porto)

Xin, L. (2000). MARSIMA - Marcação Automática de Reuniões usando um Sistema Multi-Agente. (Master's Thesis, University of Porto)

da Conceição Carvalho Benta de Oliveira Neves, M. (2000). Arquitectura Híbrida, Distribuída e Adaptável para o Controlo de um Robô Móvel: Metodologia e Implementação.. (Doctoral dissertation, Faculty of Engineering, University of Porto)

Shmeil, M. A. H. (1999). Sistema Multiagente na Modelação da Estrutura e Relaçoes de Contratação de Organizações. (Doctoral dissertation, Faculty of Engineering, University of Porto)

e Silva Mouta, F. A. C. (1996). Ambiente de Desenvolvimento de Sistemas Multiagente para Controlo e Supervisão de Processos em Aplicações Distribuidas. (Doctoral dissertation, Faculty of Engineering, University of Porto)

da Rocha, A. P. C. (1994). Cooperação entre Agentes Cognitivos: Negociação e Resolução de Conflitos. (Master's Thesis, Faculty of Engineering, University of Porto)

Ramos, C. F. S. (1993). Planeamento e Execução Inteligente de Tarefas em Robótica de Montagem e de Manipulação. (Doctoral dissertation, Faculty of Engineering, University of Porto)

Miguel, A. S. (1991). Sistema Gerador de Sistemas Periciais com Bases de Conhecimento Cooperantes. (Master's Thesis, Faculty of Engineering, University of Porto)

da Rocha, J. M. S. (1991). Concepção e Implementação de um Sistema Pericial no Domínio da Cardiologia. (Master's Thesis, Faculty of Engineering, University of Porto)
Information not available